Hardware & Electronics Engineering Meetup
Hardware & Electronics Engineering Meetup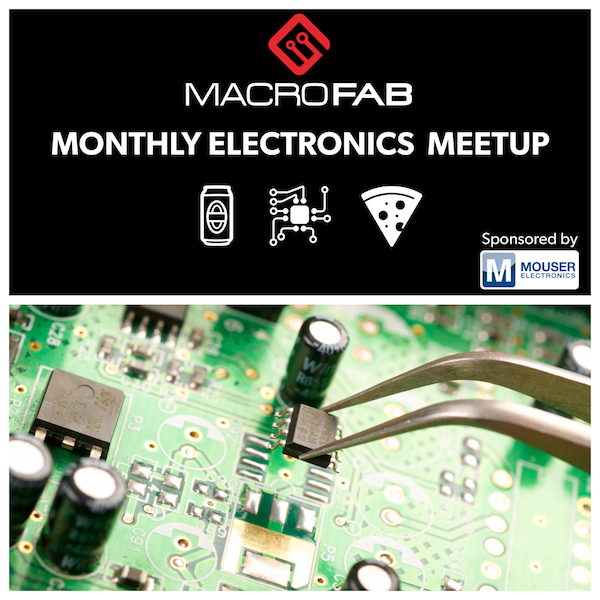 Wednesday, November 28, 2018 from 6:00 PM to 8:00 PM (CST)
MacroFab and Mouser Electronics have teamed up to create a FREE monthly meetup in Houston for anyone involved with hardware & electronics engineering or manufacturing. These meetups are designed to build a community of professionals who want to learn from one another, gain new insights into emerging electronics technologies, and expand their network.
Speakers:
Neeraj Dantu, Applications and Systems Engineer, Octavo
Chris Sanderson, Vice Chair IEEE
Topics: 
Add a Computer to your Design through SiP Technology – Now even novices to hardware can build a Linux computer, right at the custom PCB level, enabling you to define your own features and form-factor to meet your precise computing needs. Fit a computer into a tiny IoT container with System-in-Package technology! Neeraj Dantu will walk through how SiP integrates heterogeneous processors, memory, and power under one easy to layout package and how it lowers the HW, SW and boot complexity as well as time to production. He'll also take a look at how this technology brings building a Linux PC within reach of the larger community of embedded systems designers.
What are the Standards? – This discussion is centered around having open, current, and historical conversations on some of the most pressing industry and technology challenges and how standards play a vital part in shaping them. Part of the high interest from attendees is having a more informed understanding of how standards may affect our field of work, study, or life. We quickly understand the career advantages we could have over fellow colleagues with a good understanding of standards.
Who is this event for:
Electrical Engineers
Small to medium-sized businesses

Industrial Controls
Original Equipment Manufacturer (OEMs)
Consumer Electronics
Healthcare
Oil & Gas

Business owners & investors
C-suite professionals
Purchasing Managers
Makers, students
What to expect:
Networking
Door prizes
Refreshments
Tasty bites
Meetup Agenda:

6pm – Networking, Bites & Refreshments
6:20pm – First Discussion with Q&A
7:00pm – Second Discussion with Q&A
7:30pm – Raffle Prizes & Networking
8pm – End of meetup
Location:
MacroFab, Inc.
2000 W. Governors Circle
Suite F
Houston, TX 77092
This is an 18+ event
---