Home
Click
Meetings
to see the next 180 days of planned activity in Central Texas
Upcoming  Event:

HIGH TECH HAPPY HOUR: BOLLYWOOD STYLE!! 
Wednesday, November 17th, 5:30 pm-7:30 pm
IEEE Central Texas Volunteer Appreciation Event – Executive Committee, Section Committee and Chapter and Affinity Group officers, volunteers and their guests invited! 
REGISTER to attend!
---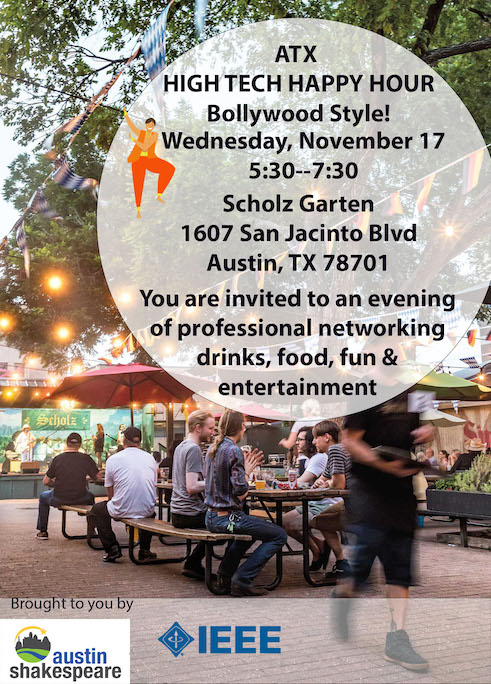 Live In-person EVENTS are BACK!
Join us for outdoor professional networking, drinks, food, fun and LIVE ENTERTAINMENT!
REGISTER to attend!
We'll have a scene from Bollywood Twelfth Night* performed by actors from Austin Shakespeare!
And a panel discussion on Arts and Technology with Austin Singer-Songwriter Nagavalli.
And let's raise a glass in tribute to Pike Powers.   We'll celebrate all the wonderful things he did for the Austin Tech Community.
See old friends –AGAIN–FINALLY!– and make new ones!
* Bollywood Twelfth Night runs from November 5-21 at the Rollins Theater at the Long Center
Welcome to the IEEE Central Texas Section website!
Central Texas Section serves more than 4,500 higher grade members and over 600 student members living and working throughout Central Texas, but primarily in the Austin area  (CTS Area Map).  The CTS is one of 26 sections in  Region 5 with 25 Society Chapters and Affinity Groups and 5 Student Branch Chapters.
The Section provides planning and funding support to assure Chapters have vibrant programs to support members' careers and meet the IEEE mission of Advancing Technology for Humanity.   Central Texas Section activities are available in our newsletter, the Analog.  I hope your visit to the website will allow you to find ways to become more active.
We welcome your feedback and comments. Please feel free to contact us.
Officers and others attended the CTS Winter Planning Meeting 1/23/2021 ↓